Image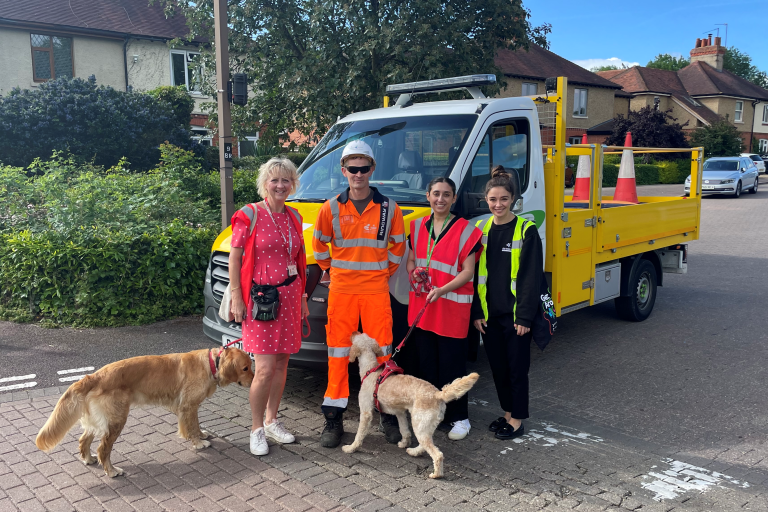 (Above) Cllr Zoe Nolan and Cllr Shanika Mahendran with members of MKC's transport team on Bradwell Road outside Loughton School
On National Clean Air Day (16 June) MK Council has extended its School Streets pilot to increase road safety and reduce pollution outside schools.
Bradwell Road outside Loughton School joins current pilot areas for Chestnuts and Cold Harbour Schools in West Bletchley.
The School Streets pilot scheme launched earlier this year. It closes key streets around the schools to motor traffic at the start and end of the school day, making them temporary pedestrian and cycle zones when children are travelling to and from school. Vehicles are not permitted to enter during these times unless they are identified as exempt.
The pilot is helping to reduce congestion and air pollution outside school entrances, making it safer for parents and pupils to walk or cycle to school.
To introduce the temporary pedestrian zones, MK Council has implemented an experimental restriction on motor vehicles on Bradwell Road (for Loughton School) during specific times which will apply for six months. The existing restrictions on part of St Georges Road (for Chestnuts School) and Highland Close (for Cold Harbour School) will remain in operation until 31 July 2022.
Following a consultation which ends in July, it is hoped that the scheme will be extended to other schools.
To learn more about the Council's School Streets campaign and specific restrictions for each school in the pilot scheme, please visit: www.milton-keynes.gov.uk/school-streets
The Council is also looking for feedback on the scheme and is asking residents who live near to a School Street to complete a short questionnaire.