Image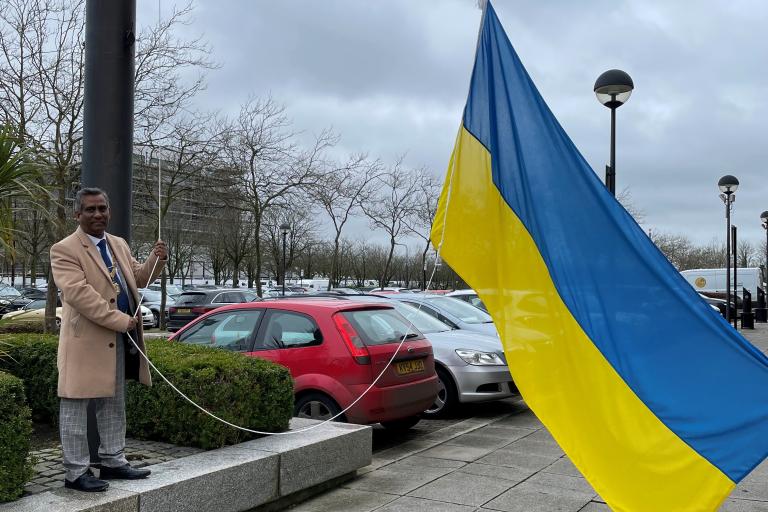 Following the launch of the Government 'Homes for Ukraine' scheme, MK Council has quickly taken steps to be ready to support Ukrainian people arriving locally as they flee the war.
The Government scheme is offering a route to safety to Ukrainian nationals and their families who are being forced to escape Ukraine.
The first phase of the scheme focuses on people who want to come to the UK and who know someone willing to provide them with a home (called a sponsor).  In a later phase, Ukrainian families and volunteer sponsors who do not know each other will be connected. Sponsors can be private citizens, charities, or other organisations, but must be able to provide accommodation for at least 6 months.
Local councils are being asked by Government to take on additional tasks such as administering national £350 a month 'thank you' payments; helping to secure school places for arriving children and young people; giving advice on how to access other services, like healthcare or welfare benefits; and potentially carrying out criminal record and other safeguarding checks. Councils are not being asked to match sponsors and guests. 
MK Council has appointed a dedicated Homes for Ukraine worker to make sure it is ready to respond. It has also announced that any local sponsors will not face an increase in Council Tax because they have opened their home to Ukrainians fleeing the war through the Homes for Ukraine Scheme. Any MK residents currently receiving 25% single person household discount will maintain their discount status regardless of their participation in the scheme.
Cabinet Member for Tackling Inequalities, Cllr Jane Carr said: "We know how generous the people of Milton Keynes are and expect to hear that many local residents have registered to be sponsors. We too stand ready to help others when they need it most and the council will do all we can to make sure any guests settle in as quickly as possible."
If you are a sponsor and have been told by the Home Office that your registration is proceeding, you can contact MK Council for assistance on homesforukraine@milton-keynes.gov.uk.
To register for the scheme, please visit https://homesforukraine.campaign.gov.uk/