Image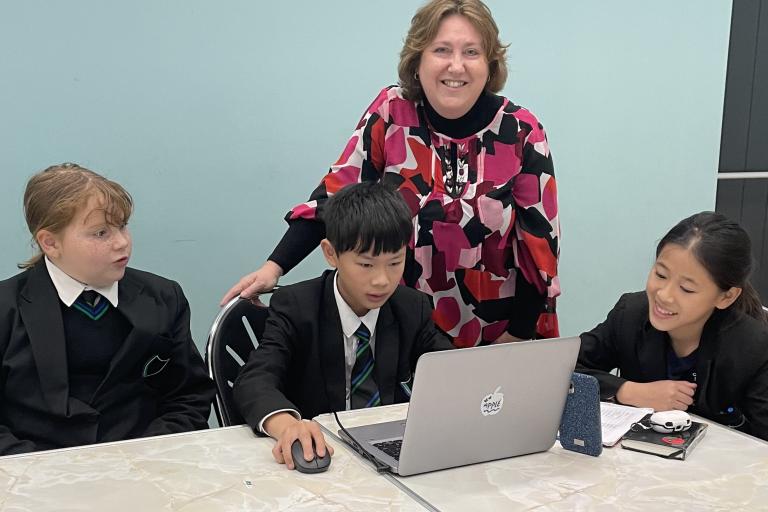 Pictured: Councillor Jane Carr with young people at The Mead Centre in Newport Pagnell
Six new City Council-funded 'Homework Plus' clubs have opened in Milton Keynes, taking the total to eight.
At the clubs, school pupils get support with their homework, including internet access, and a substantial meal.
Milton Keynes City Council launched the scheme earlier this year to help local organisations run after-school clubs for children and young people.  Club organisers can apply for a one-off grant of £1,000 to assist with the costs of setting up a club.
Following demand, the City Council has extended the window for local organisations to come forward. Interested organisations need to fill out the simple form (which includes full conditions) and send it to HAF@milton-keynes.gov.uk before Friday 15 December 2022.
Clubs must provide regular sessions of at least 90 minutes, be available to all children and young people, and be free or low cost to access.
Last year, the City Council's Poverty Commission found almost 23,000 children were living in poverty in Milton Keynes. The Homework Plus scheme is one of many of its initiatives designed to help families following a national rise in the cost of living.  A recently announced Winter Plan includes a £3.3m package of support for residents made of City Council funds and Government grants. 
To learn more, including advice and links to ongoing and emergency funds, please visit www.milton-keynes.gov.uk/cost-living-support.
A list of all existing Homework Plus clubs and how to make contact can be found below.  To find out more about Homework Plus clubs, visit: www.milton-keynes.gov.uk/HAF.
Location

Session times

Contact

The Mead Centre, Newport Pagnell

Thursday
15:30 - 17:30

Sue Jordan | 07727 020 884   

YNMK, West Bletchley

Wednesday
15:30 - 17:30

www.ynmk.org.uk to sign up

Action Speaks, Fishermead

Thursday
15:30 - 17:30

Ophelia Cole | 07360 077 260

APF Activity Camps, Broughton

Wednesday
15:30 - 17:30

Kaz James
kjames@apfactivitycamps.com

Rowans Family Centre, Fullers Slade

Tuesday
16:30 - 18:00

Pat Spurway | 01908 565 852
Patricia.spurway@milton-keynes.gov.uk                 

Future Wolverton, Wolverton

Tuesday and Wednesday
15:30 - 17:00

Somalian Outreach Programme,
Central MK

Thursday
17:00 - 18:30

Abdirahman Abdullahi
so_project@hotmail.co.uk
07940 397 702

African Diaspora, Conniburrow

Thursday and Saturday
15:30 - 17:30