Image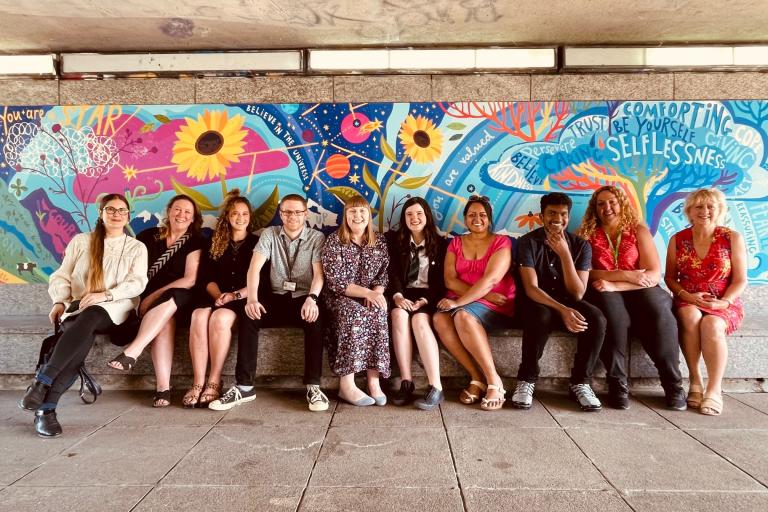 (Above) Cllr Emily Darlington and Cllr Zoe Nolan with members of MK Youth Cabinet (YCAB), artist Kremena Dimitrova and local partners outside the Buszy mural in Central MK
A giant mural which signposts helplines for young people has been officially unveiled at the Buszy Plaza Skatepark this week.
The 14-metre-wide graphic was a collaboration between members of MK's Youth Cabinet (YCAB) and artist Kremena Dimitrova. They used poetry and words from young people, taking inspiration from those who are homeless, to create the design. The mural contains phone numbers for local support services on offer to local people who need extra help, including young people at risk of homelessness who could benefit from mediation and advice, and is embedded with poetry, puzzles, and thoughts.
The project was funded by MK Council and supported by local partners including Depaul, Milton Keynes Homelessness Partnership and YMCA. A smaller version of the mural was installed in Station Square earlier this year.
Following a consultation with more than 4,000 young people in 2020, MK's YCAB identified youth homelessness and domestic abuse as issues to focus on.  YCAB hopes that this project will increase visibility of the problems faced by some young people and may help them and their families to consider getting support.
MK Council commissions specialist charity Depaul to provide free advice and support for young people in MK aged 16 to 25 who are at risk of homelessness.  Their services include Nightstop MK – a safe place to stay and Reconnect, a free mediation and family support service.  For more information, call 0330 555 0180 or visit their website.
Image