Image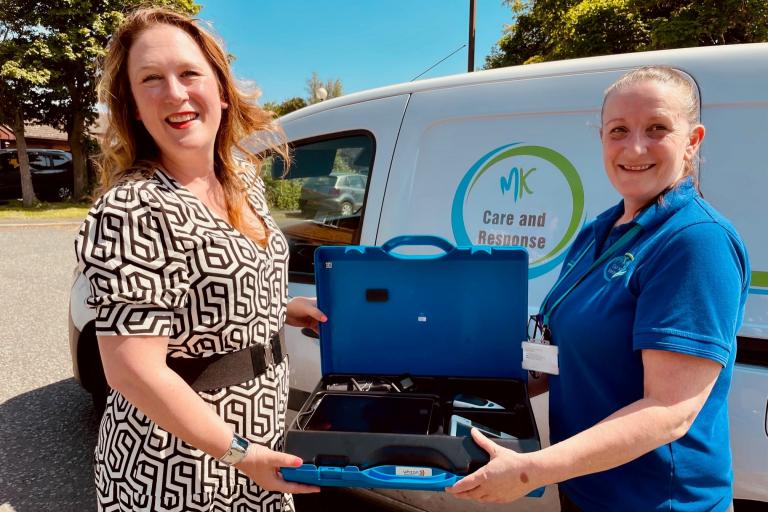 Pictured: Cllr Emily Darlington, Cabinet Member for Adults, Housing and Healthy Communities with Beverley Hawkins from the City Council's Care and Response service
The City Council's Care and Response team, who help thousands of local people live independently in their own homes, have introduced a new piece of technology to support vulnerable residents.
Mobile wardens from the Care and Response team have started using a Whzan 'blue box' to conduct simple clinical tests during a home visit.  Wireless instruments within the box measure key health markers like blood pressure, temperature, pulse, and respiration rate.  These results create a nationally recognised early warning score (called NEWS2) that can be passed on to healthcare professionals.
This means that signs of deterioration or illness can be identified earlier, and a clinical response or other care arranged before the resident deteriorates too far: vital for some vulnerable groups.  These blue boxes are already used by the NHS and carers nationally to monitor thousands of people every day.
Milton Keynes City Council's 20-strong Care and Response team are trained as control room operators and mobile wardens.  As well as giving advice and reassurance over the phone, they're often called on to alert emergency services, contact a family member, or visit a caller at home if they've had a fall or other difficulties.
In the past year, responders went out almost 6,500 times and assisted 1,667 people who had fallen over.  The team also made more than 10,000 phone calls which includes welfare checks on residents.
Image