Image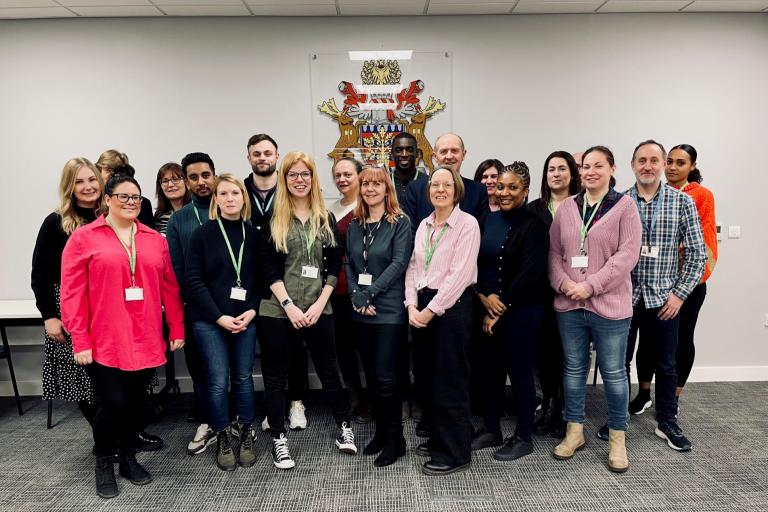 Pictured above: Members of the City Council's Youth Justice and Support Service.
Milton Keynes City Council's early support for young people at risk of being involved in knife crime has been praised by the Ministry of Justice.
The Ministry of Justice has singled out the City Council's "proven and effective" Early Support Project in new national guidance to be used by other Youth Justice and Youth Offending Teams.  A formal visit from the Youth Justice Board's Chief Operating Officer, Steph Roberts-Bibby, is planned for later this month.
The Early Support Project is run by the City Council in conjunction with Thames Valley Police's Operation Deter and other local agencies and aims to support and divert young people away from knife crime.  This includes working with schools to fast-track specialist help for young people who are at the highest risk of suspension and who have additional speech, language or communication needs.
A new project to reduce youth knife crime, launched by the City Council in partnership with The Office of the Police and Crime Commissioner (OPCC) and Thames Valley Police is called ACT-NOW.  Local young people arrested for knife offences will receive a visit from a dedicated youth officer within their first 90 minutes in police custody, and a home visit is offered within 48 hours. This enables youth justice workers to swiftly develop effective intervention plans alongside their family.
This month, the City Council's dedicated Youth Offending Team was renamed the Youth Justice and Support Service to better represent the young people they work with.  The service works with many young people who are themselves victims of crime and not simply perpetrators.
Two members of the Youth Justice and Support Service will be receiving a Local Criminal Justice Board Commendation Award which is to be presented by the Police and Crime Commissioner.