Image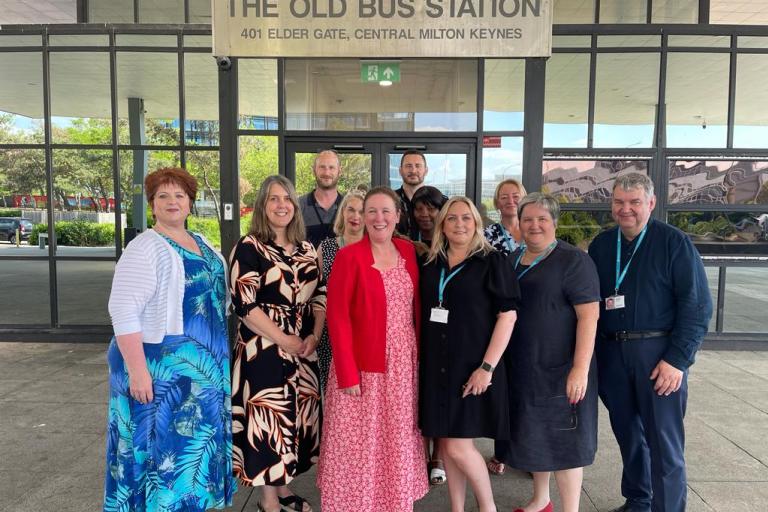 Cllr Emily Darlington with city council colleagues, Thames Valley Police and voluntary sector organisations
It's the first anniversary of Milton Keynes City Council opening overnight accommodation for people sleeping rough at the Old Bus Station in Central Milton Keynes, and in that time more than 300 people have used the shelter for accommodation and support designed to help them secure a life off the streets for good.
The city council opened the space in June 2022. It provides overnight accommodation and support services for up to 19 people at a time who would otherwise be sleeping rough. Council colleagues are onsite to provide essential support, and the space also includes shower and kitchen facilities. One year on, 322 people have spent at least one night in the accommodation.
The move to the Old Bus Station saw many essential services brought under one roof, with partner organisations from the voluntary sector using the ground floor to provide support during the day.
The city council helps rough sleepers into settled accommodation by providing support to access such as mental health diagnosis and treatment, drug rehabilitation, help to reconnect with loved ones, and financial help to secure a rented home. It has invested in specific initiatives and teams to engage rough sleepers and help them secure a life off the streets.
As a result, the number of people rough sleeping in Milton Keynes has dropped dramatically. Today, the city council's outreach team visits a small number of people who are still sleeping rough who haven't yet accepted support. There is space available for everyone who needs it.
This also means that giving cash directly to people isn't the right way to help, as it often leads to exploitation. Anyone wishing to make a financial contribution to ending street homelessness is encouraged to do so through the MK Homelessness Partnership, so the right support can be offered. If you think a person might be sleeping rough, please report it via Streetlink.