Image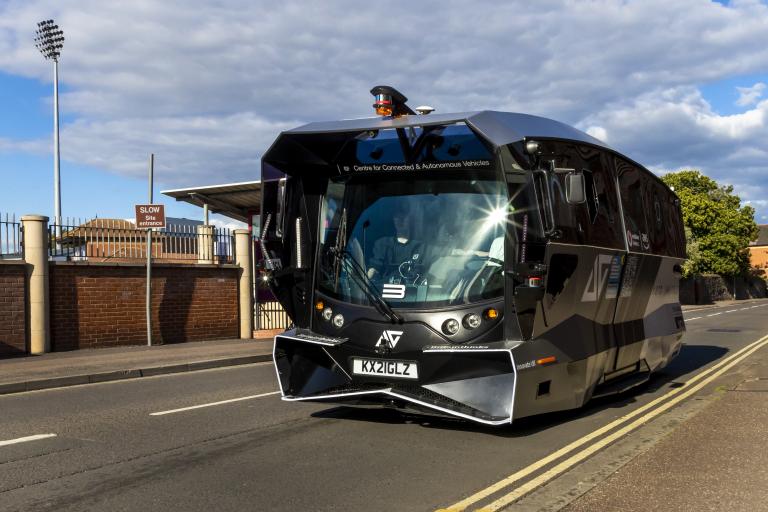 Milton Keynes has been selected to trial a new self-driving shuttle as part of a Europe-wide research project that's the longest and most geographically complex of its kind. The LivingLAPT project is funded by EIT Urban Mobility and led by University College London (UCL).
An autonomous shuttle uses five lidar sensors and seven cameras to create a full 360-degree view around the vehicle and navigate safely along public roads. It has an operator on board, capable of taking control at any time.  The trial follows similar successful trials in Prague and Brno in the Czech Republic in 2023 and in Helmond, Hasselt, Kongberg and Ricany in 2022.
However, in Milton Keynes – widely considered a living laboratory for research thanks to its involvement in a range of emerging technology trials – the shuttle will navigate multiple stops and carriageways for a far longer period.
Operated by the UK-based transport technology specialist Aurrigo, the fully accessible electric shuttle can carry up to 15 passengers throughout November.  From this week, it will run a city centre loop connecting Santander's new UK HQ at Unity Place with centre:mk, the Theatre District and Station Square.
The shuttle will be monitored by UCL whose research team will be in Milton Keynes talking with users in the trial to find out how the service can be developed to meet passenger needs.
Local people can also share their thoughts about automated shuttles with UCL through this short survey.
The research project will also see a new autonomous delivery shuttle test its capabilities at Stadium MK.  Operated by Bring Auto and using a Smart Fleet Management platform from Applied Autonomy, the shuttle is about the size of a small car and will take deliveries around the stadium site over a two-week period during November. It can interact with an external ordering system to fulfil orders without the involvement of a human operator.