Image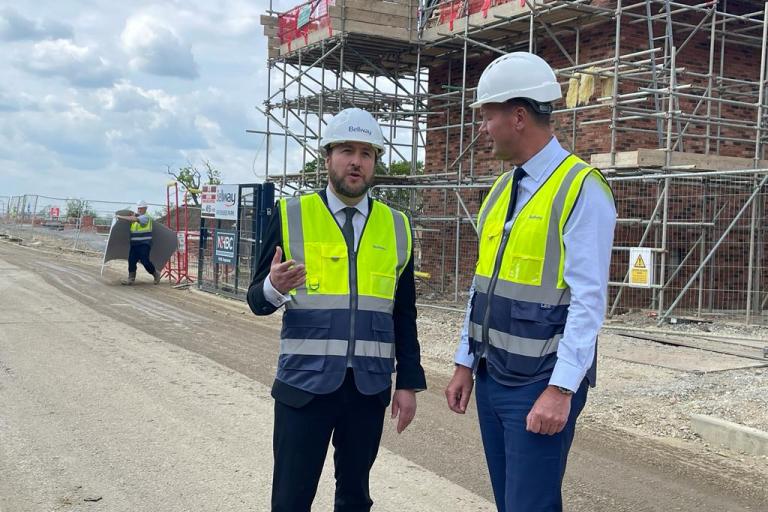 Cllr Marland and Paul Smits, Managing Director for Bellway Northern Home Counties at the Whitehouse development
Milton Keynes has exceeded its housebuilding targets set by central government for a fifth consecutive year. More than 11,300 homes have been built in the city over the past five years, with more than 3,000 built in the last year alone. Almost 500 of these homes are affordable.
This means Milton Keynes has comfortably delivered this year's annual government goal of 1,766 homes, building 175% of its target. 
While Milton Keynes is leading the way in housebuilding, the City Council is determined to ensure that infrastructure such as schools and medical facilities come first to support both new and existing communities.
Leader of MK City Council, Cllr Pete Marland visited Whitehouse Park where developer Bellway is building nearly 600 homes. Once completed, the wider area in Whitehouse will have over 4,000 new homes along with green open spaces and play areas.
The development at Whitehouse is a prime example of where MK City Council is guaranteeing that communities are provided with the necessary infrastructure that residents rely on. Watling Academy and Whitehouse Primary schools have already been built, with Watling Primary due to open in September.
The state-of-the-art Whitehouse Health Centre, which the City Council has invested over £12m in so far, opened its doors in 2021. The services provided from the Centre will be able to meet the health needs of up to 22,000 patients.
Last year MK City Council secured over £70m for similar infrastructure projects through developer contributions.