Image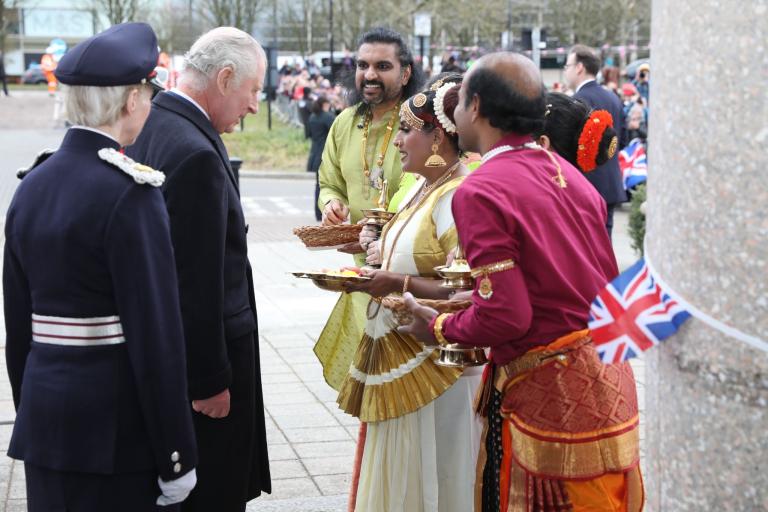 People in Milton Keynes today (16/02) gave His Majesty The King a very warm welcome as he arrived to formally mark Milton Keynes' newly conferred city status.
His Majesty visited The Church of Christ the Cornerstone where he was met by HM Lord Lieutenant, Countess Howe and other dignitaries. He greeted joyful crowds as local group India Day Milton Keynes welcomed His Majesty in three cultural dance forms called Bharatanatyam, Mohinyattam and Kathak.
During the visit, His Majesty met a diverse range of community groups and organisations who were involved in the city status bid. The King also met Ukrainian refugees residing in Milton Keynes with their host families, together with local dignitaries and City Council representatives.
Milton Keynes Mayor, Cllr Amanda Marlow introduced His Majesty The King who thanked everyone in the city for their involvement in making the bid a success. His Majesty then unveiled a commemorative plaque and signed the Church Book, which was previously signed by Her late Majesty Queen Elizabeth II when Her Majesty visited to open and dedicate the newly built Church in 1992.
Milton Keynes was named a city as part of celebrations for Queen Elizabeth II's Platinum Jubilee in May last year.
The council brought together more than 50 knowledgeable people and organisations to develop the bid, which also had a wealth of public support with hundreds of residents submitting photographs of their favourite local places, and a competition for pupils to design a 'flag for MK' running in schools. A free digital light parade and concert headlined by Sam Ryder to celebrate the honour was attended by thousands of local people in October.