Image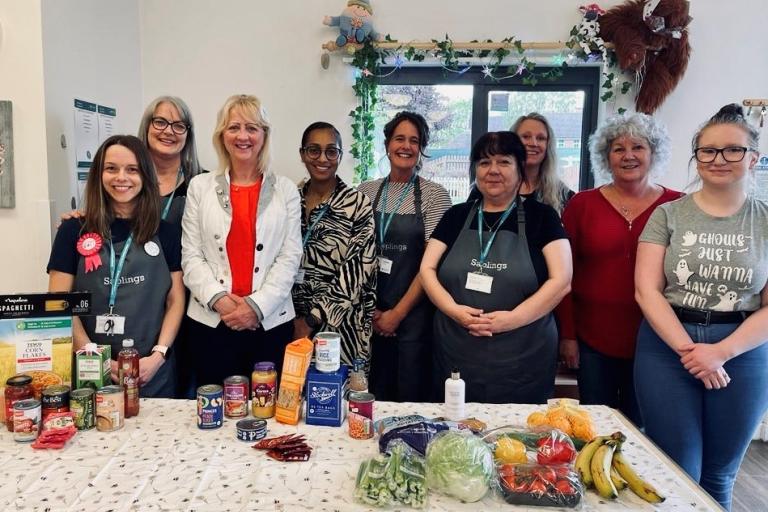 Pictured: Cllr Zoe Nolan with colleagues at Saplings Children's Centre and staff from SOFEA
Milton Keynes City Council has marked the launch of the city's newest community food larder in Bletchley.  The Saplings Community Food Larder officially opens this week at the City Council's Saplings Children's Centre.
The food larder has been set up with SOFEA, a regional charity that works to support children and families through its own grassroots projects and initiatives including community food larders.
Milton Keynes City Council has given £20,000 to SOFEA to support struggling families during the cost-of-living crisis.
Community larders serve as a local neighbourhood club which requires a subscription.  Weekly memberships are just £3.50 for an individual and £7 for a family and will provide up to £15 worth of subsidised fresh food and drink each week.
The aim of the larders is to save waste and give people access to cheaper food, a chance to meet neighbours and access services to support with the cost-of-living.  People using SOFEA's community larders don't need to be means tested or on specific benefits.
SOFEA's national partner, FareShare UK provide surplus food to ten food larders across MK.  A full list of food larder locations can be found on the SOFEA website.
Alongside local charity Harry's Rainbow, who offer support to bereaved children, SOFEA is one of two charities supported by the new Mayor of MK, Cllr Mick Legg.
In October, MK City Council declared a 'cost-of-living' emergency' and set up a Winter Plan with funding for local initiatives that provide food and domestic essentials along with projects that can offset or reduce energy bills.  Further details about the support available can be found on www.milton-keynes.gov.uk/cost-living-support